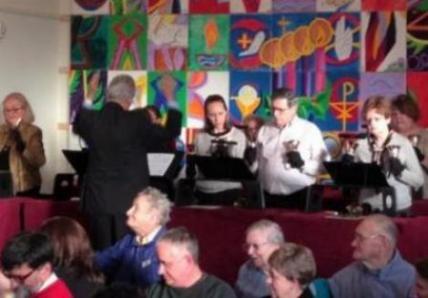 Music is important at Emanuel. From our bell choir, to our vocal choir, to the music we sing together in worship, music brings us together and moves our hearts closer to God. It's something lots of people here enjoy.

You're apt to hear many styles of music at Emanuel, everything from German Chorales, to rock & roll, gospel, jazz, and praise & worship music. Our Minister of Music, Chuck Mello, plays the organ and piano, but we frequently have guests who will come and play other instruments – flute, clarinet, guitar, banjo, drums, violin, tuba, etc.

Vocal Choir
Emanuel's vocal choir meets on Sunday mornings at 9:15. Everyone is invited to come and lend their voice. Often the choir will sing during the 10:30am worship service.

Bell Choir
The bell choir plays at our Christmas and Spring concerts. If you're interested in playing, just let our Minister of Music or pastor know.