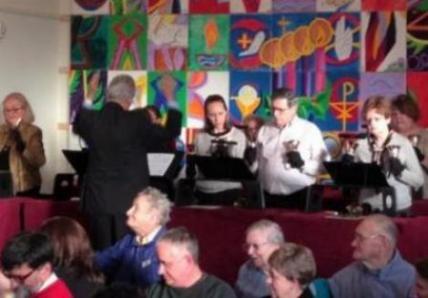 Music is important at Emanuel. From our vocal choir to the music we sing together in worship, music brings us together and moves our hearts closer to God. It's something lots of people here enjoy.
Our music director is Nancy Kennedy.

In addition to providing beautiful music to enhance our worship Nancy also directs the choir. New voices are always welcome in the choir, previous experience is not necessary. Our only requirement is a love of singing and the desire to be of service to Emanuel. For many the choir can be an avenue for making a real connection with others in the congregation. Choir members work together as a team and come to rely on one another both musically and spiritually.

We rehearse on Sunday mornings from 9:00-10:00 before worship service. The choir periodically sings the anthem during the 10:30 Sunday worship service. When the choir isn't singing, soloist provide the anthem. So if you have a song in your heart, please see Nancy after service on Sunday to learn how you can share your voice at Emanuel.

We also welcome instrumentalists to join our worship service. Whatever instrument you play Nancy would be happy to work with you to share your gifts with the congregation, the more the merrier!

To contact Nancy by phone call 401-374-2017, via e-mail, you may reach her at: kennedyn17@gmail.com

Nancy has a master's degree in music education and over 25 years experience directing choirs in public schools and churches. Besides her work at Emanuel she also teaches music at Pilgrim High School in Warwick,RI
.